Masonry work and services in Eugene, Oregon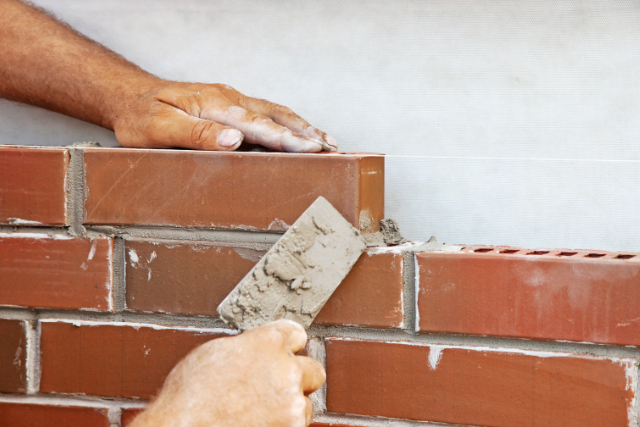 You can trust our Eugene brick repair professionals for top-rated masonry work and guaranteed quality. Our local company provides a wide range of masonry services to residents and commercial business throughout our Oregon coverage area.
When it comes to bricks and masonry, we do it all. We build and repair retaining walls, install patios, restore and replace driveways, repair chimneys, fix sideways and pathways, and much more. Our licensed and insured masons offer the utmost care to your brickwork. We are confident you will be satisfied with our services.
You should put your property in the hands of any old schmoe off the street. Our contractors have the skill, experience, knowledge and required training to deliver work that will exceed your expectations. We come highly recommended by our loyal customer base.
Contact us today for help on your home or business masonry project in Eugene, OR. We deliver free estimates and affordable rates.
Brick and stone installation options
We help local home and business owners save money on construction services for their property. We have fostered solid relations with manufacturers, suppliers, and vendors across the USA to ensure we have the very best products that won't break the bank.
Our crew knows modern and traditional masonry methods. We can create elaborate masterpieces or any masonry work you need. Our team can help with following:
Brick masonry: this includes chimney, retaining walls, brick veneer, fireplaces, patios, porches, and mailboxes.
Brick columns: We consult with you on an individual level in building a design and look you love for brick columns for porches, patios, driveway entrances, and more.
Brick inlays: We install inlays for patios and driveways. We also stamp brick into new concrete.
We provide diverse and superior design, engineering, products and solutions for all residential and commercial projects.
Brick has been a material of choice for builders and contractors for hundreds of years because it is durable and long lasting. The following are other advantages of building with brick:
Environmentally friendly: Brick, stone and masonry is classified as an eco-friendly material by the government as it does not use natural resources.
Fire resistant: Bricks and stones are non-combustible materials, which reduces hazardous materials around a property in case of a fire.
Protection against mold, fungus and allergies: Wood structures can retain moisture which may allow for mold and mildew to develop. There are no such worries with masonry.
In spite of these clear benefits, masonry must be maintained and monitored for wear and tear. Harsh weather conditions can crack and break down brickwork. With so much freezing and thawing during our Oregon winters, cracking and spalling of brick may happen. 
We can help with all masonry repairs and tuckpointing. Get in touch with us ASAP for a consultation when you notice a problem with your bricks or stone. Cracking masonry or mortar can allow water to permeate bricks and lead to costly structural problems.